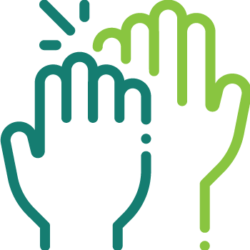 Caring for each other as we care for the community!
As we close out a tough and difficult year that has impacted us all in different ways, give back and lend a helping hand to your colleagues at Valleywise Health. Join us in showing the Valley that we are ALL IN – not only for the health of the community, but for each other.
With your gift today, you will support the Employee Helping Hands program and ensure your colleagues on your left and your right are helped during difficult times.
Make your gift now through December 15 to support the LIVE 101.5 GIVE-A-THON benefiting Valleywise Health. We will be sharing patient stories and celebrating YOU and the amazing work you do each day.
When you go ALL IN and make a gift to Valleywise Health, you'll receive the following benefits:
• Entered into weekly drawings for gift cards
• Entered into a raffle for a Valleywise Health swag bag
• Priority access to volunteer opportunities for the LIVE 101.5 GIVE-A-THON
• Your name acknowledged on air during the GIVE-A-THON
For questions about the Campaign, or if you're interested in becoming a Campaign Ambassador, please contact Katie Jensen!
Questions about the ALL-IN Campaign? Want to become an ambassador?
Contact Katie Jensen!