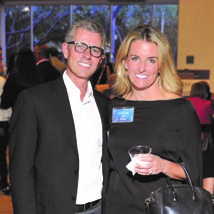 Erin Vogel is the Vice President at the Cove Club at Cabo Del Sol and Four Seasons Cabo San Lucas at Cabo Del Sol. Greg Vogel is the Founder and CEO of Land Advisors Organization.
Erin was born in Toledo, OH and serves as Vice President at the Cove Club at Cabo Del Sol and Four Seasons Cabo San Lucas at Cabo Del Sol. She has undergraduate degrees in Finance and International Marketing from Miami University. Her career in Real Estate Development and Resort Placemaking grew as she moved from Ohio to California, Washington, Oregon, Idaho, the Bahamas and Arizona. She has a long history as a community volunteer and is passionate about the global advancement of gender equality.
Greg was born in New Jersey and migrated to Arizona to attend ASU and majored in Real Estate.  In 1987 he founded and is CEO of the Land Advisors Organization.  Greg has led the expansion of the company into 27 markets across the United States. Over the past 35 years he has been involved in hundreds of transactions including several of the highest valued land transactions in the country. Mr. Vogel received his B.S. in Real Estate from Arizona State University in 1985. Greg has been deeply involved in ASU as a past Foundation Board member, and currently chairs the Real Estate Council.
Greg has three incredible children and 2 dogs named Benji & Baxter. Erin and Greg love to go on ski and summer trips to the mountains with Greg's children and root on the Michigan Wolverines and Phoenix Suns. They also enjoy international biking and hiking trips and spending time in Los Cabos. Greg has been a collector of rare books and maps and houses the collection at The Book Lounge in Old Town. This space has become activated with gatherings of thought leaders in the business, political and philanthropic arenas. The Vogel Family Foundation focuses on healthcare, gender equality and child welfare advocacy and education.