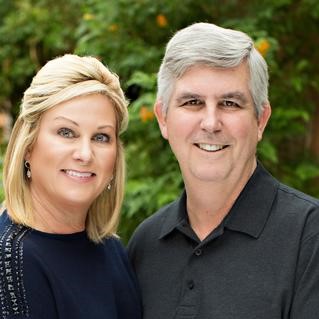 John Graham is Chairman and CEO of Sunbelt Holdings.
John was born in Minneapolis, MN but has lived in Arizona since he was six months old.  He graduated from Brophy College Preparatory and Stanford University with a BA in Economics.  He worked at Coldwell Banker in asset management and sales from 1978-1980. He then went on to work for The Koll Company in asset management and development from 1980-1982. He joined Sunbelt Holdings in 1982 and became President in 1990. Under John's direction Sunbelt has become a dominant force, in both community affairs and real estate activities. He currently serves as the Chairman and CEO of Sunbelt Holdings.  He is involved in over twenty organizations in the valley including Brophy College Preparatory, Arizona State University Foundation and Valley of the Sun United Way.
Kathleen was born in Indianapolis, IN but moved to Tucson to live at Davis Monthan Air Force Base when she was six years old.  She graduated from Arcadia High School and the University of Arizona with a BA in Speech Communications and Psychology.  She led a successful career in commercial real estate specializing in property management prior to having children.  In addition to Valleywise Health Foundation, he currently serves on the board of Common Spirit Health (St. Joseph's Medical Center) and Banner Health (MD Anderson Cancer Center Capital Campaign).  She is firmly committed to the mission of and investment in Valleywise Health as they prepare the next generation of compassionate, caring, and brilliant physicians.
Both Kathleen and John Graham strengthen our community through their dynamic and diverse service.  They are particularly interested in investments in education and healthcare and are specifically proud of the robust resident training programs, comprehensive primary care centers and behavioral health centers, and specialty programs such as the Arizona Burn Center which are offered by Valleywise Health.  John has been honored with the Jerry Colangelo Impact Award in 2016, the Greater Phoenix Economic Council Distinguished Service Award in 2015, the Phoenix Business Journal Landmark Leaders Lifetime Achievement Award in 2015, Most Admired Leader by the Phoenix Business Journal in 2013 and the NAIOP Lifetime Achievement Leader of the Year in 2011 just to name a few.  John and Kathleen have been honored as a couple by many organizations such as Teach for America in 2016 and Banner Health Foundation in 2013.