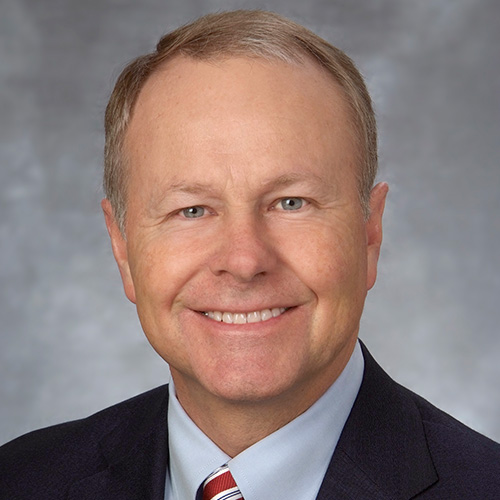 President & CEO – Valleywise Health
Steve Purves became President & Chief Executive Officer of Valleywise Health in September 2013. Valleywise Health is Arizona's largest public health care system and Maricopa County's largest training center for physicians and other health care professionals. Valleywise Health includes the Maricopa Medical Center, the Arizona Burn Center, the Arizona Children's Center, a Level I Trauma Center, two behavioral health centers and a network of 13 Federally Qualified Health Centers that serve the entire county. Valleywise Health is the longest serving teaching hospital in Arizona with 10 ACGME accredited residency programs with over 350 residents, hundreds of medical student rotations and significant nursing and allied health training programs. Purves works with the publicly elected five-member Board of Directors who represent the Maricopa County Special Health Care District, to provide executive leadership for the growth and development of Valleywise Health. Since 2013, Purves led an $86 million financial turnaround at Valleywise Health and helped secure a $935 million bond referendum to replace facilities and to reinvent Valleywise Health's role as the safety net system of care for Maricopa County, Arizona.
Purves is actively involved in the community as an ambassador for Valleywise Health and in a variety of roles outside his health care duties. He serves on the boards of America's Essential Hospitals, the Arizona Hospital and Health Care Association, the Arizona State University Health Advisory Board and Health Care Futures Council, Valley of the Sun United Way, Valleywise Health Foundation and the Arizona Chamber of Commerce. He is a member of the regional policy board of the American Hospital Association, and is a member of Greater Phoenix Leadership.
Purves has over 37 years of service as a health care executive serving in the investor-owned, public, academic and private not-for-profit settings. Prior to joining Valleywise Health, he served 7 years as President & CEO of Munroe Regional Health System, Inc., a public, not-for-profit health care system that serves Marion County and North Central Florida.  Prior to that, Purves served 8 years as President & CEO of the Sisters of Charity Providence Hospitals in Columbia, South Carolina, a two-hospital regional health system serving the midlands of South Carolina. During his time in South Carolina, he served as Adjunct Professor for the University of South Carolina School of Public Health.
Purves has numerous awards and honors; some of which include an appointment to the position of Civilian Aide to the Secretary of the Army for South Carolina, award of the U.S. Army Outstanding Civilian Service Medal, top 25 most influential leaders in Phoenix, and political advocacy awards from the American Hospital and the Florida Hospital Associations. Purves received his Master's Degree in Healthcare Administration from Trinity University in San Antonio, Texas, and his Bachelor's Degree in Health Education (Cum Laude) from Springfield College in Springfield, MA. He is also a Fellow of the American College of Healthcare Executives (FACHE).
Purves is a native of Roanoke, Virginia. He and his wife, Mary Anne, have two grown children.