On June 13-26, 2022, K2 Adventure Travel and members of the Valleywise Health Foundation will lead a team of burn survivors, medical professionals and donors to climb Mount Kilimanjaro in Tanzania, Africa. We will raise awareness of all that burn survivors can accomplish and the life-changing work done at the Arizona Burn Center at Valleywise Health. More than fundraising for a new Burn Survivorship Center and a climb, this is about showing our survivors AND community that anything is possible when we #RiseTogether. Due to the COVID-19 pandemic, our climb of Kilimanjaro has been postponed to June 13-26, 2022. We will stay ready to pivot at any time as the state of the pandemic develops.
Standing as Africa's tallest mountain, Kilimanjaro is one of the world's seven summits. While it may be the fourth most topographically prominent peak on Earth, Kilimanjaro requires no technical skills or equipment, such as rope, harness, crampons or ice axe.
Whether you're headed to Kilimanjaro or just want to stay active, join us on our Team Hikes! Our team hikes are social distanced due to the COVID-19 pandemic. Dates, times and trails are subject to change. Official team hikes are in bold.
1/8/22 – Peralta Trail – Superstition Mountains
1/23/22 – LV Yates Trail – Phoenix Mountain Preserve
2/12/22 – #RiseTogether Rumble – Fit6 Gym
2/20/22 – Holbert Trail – South Mountain
3/12/22 – Hawes Trail – Jason's House
3/27/22 – AZ Walk of Courage – Rio Vista Community Park
4/9/22 – Picacho Peak Trail – Picacho Peak State Park
4/24/22 – Gateway Trail – McDowell Sonorans
5/7/22 – Bear Mountain – Coconino National Forest
5/22/22 – Piestewa Peak – Phoenix Mountain Preserve
6/4/22 – Humphrey's Peak – Coconino National Forest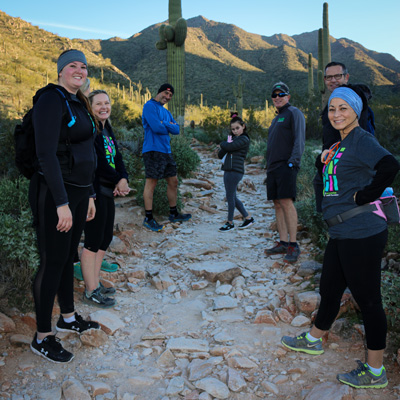 Follow us on social media and subscribe to our newsletter to stay up to date!